RxAdvantage Prescription Savings Card
Spend less on your prescriptions at more than 60,000 pharmacies nationwide.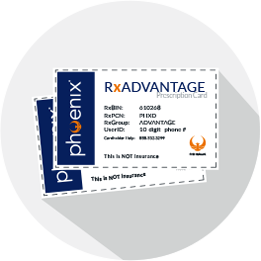 The Phoenix RXAdvantage card is a free, simple way to save money on everyday prescription medications.
The Phoenix RxAdvantage Card is not insurance. It is a resource available to groups and individuals that keep your out-of-pocket expenses as low as possible – even if your deductible is not met by a prescription. If you're an individual user, one card works for the whole family. If you're managing a group, every time a member uses their RxAdvantage Card, they save money and your organization earns a benefit.
Phoenix provides access to the fundamental resources that help people live healthier lives.
We have excelled in this effort for decades by providing bigger savings, more options, better resources, and the best customer service in the business.
Better Savings
The Phoenix System is a static transaction-based fee structure that is simple to understand provides access to the greatest possible benefits for brokers, agents, TPAs, organizations and patients.
More Options
Phoenix PBM clients have the prescription benefits they need at the fairest price. We review financial, plan design, eligibility, and rebate details with you to verify that you're getting the greatest value from every element in your plan.
Better Resources
Better information is at the center of better health. The Phoenix dashboard puts your accounts, options, and statistics like user demographics, claims reports, and brand name and generic use reports at your fingertips.
Peerless Customer Service
Customer service excellence lives at our core. When you call, we answer. When you have a question, we have a thoughtful answer. Our team is pharmacy trained, bilingual, and committed to meeting your specific prescription benefit needs.
The Phoenix RxAdvantage Prescription Savings Card
This is not an insurance card. It is a discount resource that keeps out-of-pocket expenses low. The card is available to anyone and works for your whole family. Just print it out and present it to the pharmacist when you pick up your prescription.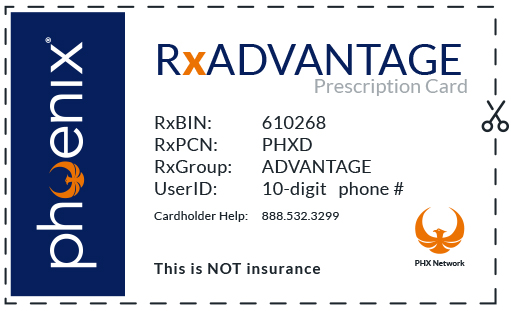 The Phoenix RxAdvantage Card is a FREE and EASY way to SAVE MONEY on prescriptions.
PHARMACISTS: This is a FREE program to our cardholders. Please process their prescription using the above BIN/PCN/Group information. The user identification number should be the cardholders 10-digit phone number. If you have questions processing this claim, please don't hesitate to call our Pharmacy Help line: 888-532-3299. Thank you for taking the time to provide these customers with savings on their prescription medications.
CARDHOLDER: Present this card/page to your pharmacist either when you drop off or pick up your prescription to receive a discount off the retail price of the medication. If you have questions concerning your card, please call our Customer Help Desk line: 888-532-3299.