Pharmacy Benefits Management (PBM)
Personalize a pharmaceutical benefit plan and get the information you need for better care.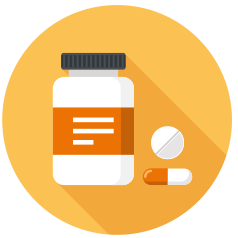 Improve the prescription benefits within your pharmacy benefit management arrangement.
Spend less and know more with Phoenix PBM. Even the most complicated benefit plans can be simple to understand and easy to manage. We work with you to define goals and benchmarks and to audit your current services. With the relationship and information in place, we'll tailor a solution that can flex to meet your changing needs. And you'll always know how your plan is performing thanks to clear, in-depth reporting tools.
Phoenix provides access to the fundamental resources that help people live healthier lives.
We have excelled in this effort for decades by providing bigger savings, more options, better resources, and the best customer service in the business.
Better Savings
The Phoenix System is a static transaction-based fee structure that is simple to understand provides access to the greatest possible benefits for brokers, agents, TPAs, organizations and patients.
More Options
Phoenix PBM clients have the prescription benefits they need at the fairest price. We review financial, plan design, eligibility, and rebate details with you to verify that you're getting the greatest value from every element in your plan.
Better Resources
Better information is at the center of better health. The Phoenix dashboard puts your accounts, options, and statistics like user demographics, claims reports, and brand name and generic use reports at your fingertips.
Peerless Customer Service
Customer service excellence lives at our core. When you call, we answer. When you have a question, we have a thoughtful answer. Our team is pharmacy trained, bilingual, and committed to meeting your specific prescription benefit needs.
Why Phoenix
With Phoenix, brokers, TPAs, labor unions, and consumers benefit from scalable, low-cost individualized prescription benefit plans and the very best customer responsiveness and care.
Corporate Overview
Learn how Phoenix is simplifying complex healthcare solutions and creating successful, affordable prescription benefits programs for our clients and their customers.