Medicare Part D
Affordable out-of-pocket coverage for individuals receiving Medicare Part A or Part B benefits.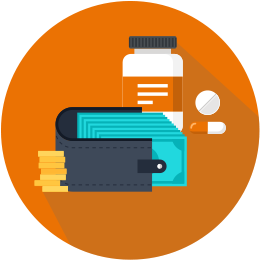 Phoenix PBM is your source of quality, individual Medicare Part D prescription drug plans.
In the face of dramatic increases in prescription drug costs, any organization offering Medicare Advantage prescription drug plans (MAPDs) and standalone prescription drug plans (PDPs) have to be incredibly diligent about managing every aspect of their pharmacy benefits plan. Phoenix understands this complexity and challenge. You can rely on us to help you lower your pharmacy costs.
Coordination of Benefits (TrOOP)
Accommodates all of the coordination needs of Part D benefits by providing the True Out of Pocket (TrOOP) Facilitation Contractor and Part D Plans with the secondary, non-Medicare prescription drug coverage necessary to facilitate payer determinations and the accurate calculation of TrOOP expenses.
Medication Therapy Management
Maximum flexibility for designing and maintaining creative therapy programs; simplified execution of your medication therapy strategies.
Employer Group Waiver Plan (EGWP) Solution
Phoenix has partnered with LaborFirst to provide an EGWP plan for keeping your retiree group pharmacy program healthy, particularly as the Retiree Drug Subsidy loses its appeal.
Phoenix provides access to the fundamental resources that help people live healthier lives.
We have excelled in this effort for decades by providing bigger savings, more options, better resources, and the best customer service in the business.
Better Savings
The Phoenix System is a static transaction-based fee structure that is simple to understand provides access to the greatest possible benefits for brokers, agents, TPAs, organizations and patients.
More Options
Phoenix PBM clients have the prescription benefits they need at the fairest price. We review financial, plan design, eligibility, and rebate details with you to verify that you're getting the greatest value from every element in your plan.
Better Resources
Better information is at the center of better health. The Phoenix dashboard puts your accounts, options, and statistics like user demographics, claims reports, and brand name and generic use reports at your fingertips.
Peerless Customer Service
Customer service excellence lives at our core. When you call, we answer. When you have a question, we have a thoughtful answer. Our team is pharmacy trained, bilingual, and committed to meeting your specific prescription benefit needs.
Retail Pharmacy
Phoenix retail pharmacy benefits give you choice and convenience. Access independent and chain pharmacies to get the prescriptions you need quickly – no claims to file and no waiting for reimbursement.
Drug Benefit Capitation
Allocate a fixed amount of money to deliver drug benefits and secure access to high-quality health benefits for each patient. Simplify complex agreements and requirements to realize sustainable cost efficiencies in the process.
Prior Authorization & Step Therapy
Phoenix helps to satisfy the need for affordable and effective specialty medications with pharmaceutical benefit solutions built on collaboration between physicians, pharmacists, and other healthcare professionals working with current, peer-reviewed, clinically relevant research.
Why Phoenix
With Phoenix, brokers, TPAs, labor unions, and consumers benefit from scalable, low-cost individualized prescription benefit plans and the very best customer responsiveness and care.
Corporate Overview
Learn how Phoenix is simplifying complex healthcare solutions and creating successful, affordable prescription benefits programs for our clients and their customers.
What can your PBM do for you?

If your PBM is Phoenix, everything you need.

Count on Phoenix for personalized, flexible benefits backed by absolute service excellence. We know this complex market. We listen first and innovate wisely. Phoenix is your best source of savings, options, and reporting resources because we turn our strengths into benefits that become yours.